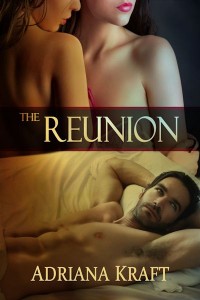 A dark and brooding bad boy,
his petite Latina lover,
and his unattainable former highschool crush ~
a sizzling, combustible threesome.
REVIEW:
I rate this book 4 stars. It was an entertaining read. It was well written and visually you can see the characters coming to life in front of you. It brings you to a wild side of reading and it woke me up..
When Sarah Atkinton return back to her 20th high school reunion she is a different person. Not the same goodie two shoes she was known as. She is now twice divorced and going back home she runs into an old flame Adam Granger, that she was always dreaming about but never hooked up. He was the local bad boy then.
This book is a good read, it is about love, sex, excitement and Sarah coming to terms about who she is.Be warned, this is 18+ book and very detailed. It is well written and I highly recommend if you like to read erotica books ie: M/F/F; Menage stories. this one was a "Polyamory".
I was given a free copy to do my review of this book. Thank you Adriana Kraft.
Reviewed by: Ana