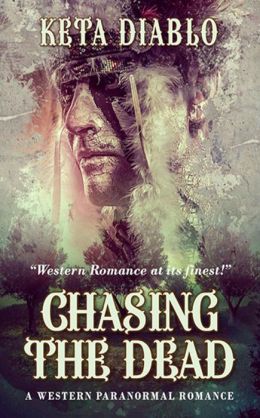 The Apache kidnapped me to dispel an evil ghost from their village. If I tell them I don't possess the same skills my madre did, they'll cut my throat and feed me to the dogs. Celesta was the best spirit chaser in all of New Mexico before she died.
The most I can hope for is that Emmett, my fiancé, will rescue me. Is he capable of such a thing? Poppy must not have thought so because he sent Deacon Bannister to save me. Deacon…the man who walked away days before our wedding a year ago. The man who still melts my bones after one look.
We're running for our lives from Uday, the vaporous ghoul tracking us. He wants Sacheen, the beautiful maiden banished from the Apache village who travels with us. The warrior killed her father when Sacheen refused to marry him, and then Sacheen's brother killed Uday.
The ghost's powers grow stronger every minute on our journey back to El Vaquero…and so does my love for Deacon.
REVIEW
Rating: 5 Stars
I must say this book surprised me, and not in a bad way. I hadn't expected it to pack such a punch. I've always been a sucker for characters that have an unrelenting passion and one that won't quit no matter what obstacle is thrown their way. And Maddie and Deacon did not disappoint in this aspect. Their connection is so palpable you can literally feel it.
But that's not the only reason I would rate this a 5 star book. I was pleasantly surprised to see that this wasn't just a western romance. It also has paranormal elements as well. Of which I won't delve into too much to avoid spoilers, but suffice it to say that this book didn't disappoint.
I highly recommend Chasing the Dead by Keta Diablo for anyone who loves a great romance and a riveting plot line!