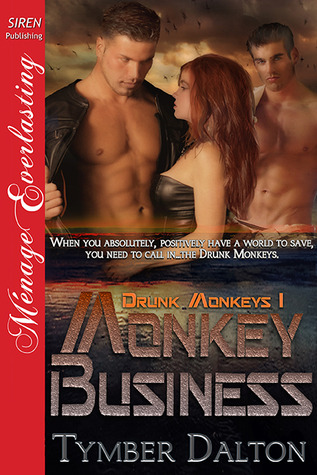 When you absolutely, positively have a world to save, you need to call in…the Drunk Monkeys.
Celia Jorgens is a reporter from Chicago. Traveling to Australia, she's chasing the story of a lifetime—and a scientist she thinks might have answers to stop the deadly Kite virus that's ravaging the globe.
Tango and Doc are part of the Drunk Monkeys elite special ops unit. They've been given a mission, to bring in the scientist and use the reporter to find him.
Unfortunately, it turns out shadow factions want them to fail, and the men no longer know who they can trust. As passions flare between Celia and her two hunky military men, they all find themselves in a race to escape Australia before the borders close and their enemies find them. Now, it's up to Celia and the Drunk Monkeys to go off-the-grid and commit a little monkey business of their own before time runs out for the human race.
Purchase from Siren Bookstrand
REVIEW:
Rating: 5 Stars
I have to say that I absolutely loved this book. It was a little more Sci/Fi or futuristic than I expected, but I also admit the series name "Drunk Monkeys" is what grabbed me. That and I've read this author before and loved her work.
While Monkey Business might not have been what I expected, it definitely didn't disappoint. Although the little teaser at the end that left me hanging was something that will make me coming back for more. But something tells me that the author knew exactly what she was doing with it.
LOVED IT!
Reviewed by: Carrie