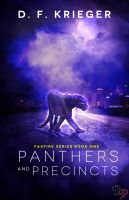 Meet Zeara—zoologist, crime solver, and crazy cat lady. Throw a literate panther and a sexy detective into the mix and watch the trouble ensue.
People didn't just happen to "drop by for a visit" at midnight. Whoever was on the other side of that door either had a good reason, one that she probably didn't want to hear, or would wish they had once she finished tearing them apart.

Dr. Zeara Faxfire and her side-kick cat, Magic, are on the case when a panther is discovered during a police investigation of a missing boy. The fact the panther can write is only slightly scarier than Zeara's attraction to Detective Markovich. Add a little magic, some mayhem, and scientific proof of the paranormal, and she ends up knee-deep in trouble. Can she find the missing boy, solve the riddle of the panther, and face her own past before time runs out? Or will the only way to give everyone a happy ending come at the expense of the job she loves?
REVIEW:
'Panthers and Precincts' treats the reader to a fun paranormal could-be-romance that introduces some nice characters facing an intriguing situation, when police are investigating a puzzling missing person case. A teacher has reported that one of her students is missing, but the boy's parents deny it.

When the police search their home, they don't find the boy, or any evidence of anything terrible having happened there.

What they do find, hiding in the basement, is a leopard.
Over the crying pleas of the missing boy's mother, the police confiscate the leopard, and take it to the city zoo.

Detective Jake Markovich finds himself having to work with the zoo staff, including Zeara Faxfire.

As if this current case wasn't already strange enough, now he has to deal with this quirky woman, a specialist in big cats, who has also taught her pet cat, Magic, to talk. Really – a limited vocabulary, but Magic talks.
Zeara, called 'Z' by most of her co-workers, finds herself very attracted to Jake, but she tries to fight it off, because since it distracts her from working with the leopard, which consistently acts unlike any other big cat she has ever encountered.

After all, how often can she expect to work with a leopard who sits in a corner and cries, and runs up to her when she pulls out her lunch, to scratch the wood 'food' in the dirt?
The biggest mystery in this book is how and when will this couple figure out what the reader already suspects, and what will happen when they do?

And along with that, when will they admit that they're falling in love with each other?

There are still many surprises along the way, a fair amount of tension, and many interesting secondary characters like Z's best friend Brae (usually called 'B') and an up-and-coming scientist named Zane.

Everything builds up nicely, to conclude with Jake and Z facing a threat that will hopefully lead to more books.
Probably because I've been reading paranormal romances for many years now, I found the book predictable in places, but all told, 'Panthers and Precincts' was interesting, fun, relaxing – and well worth reading.

I award the book 4 stars.
I am grateful for the free reviewer's copy I was given.