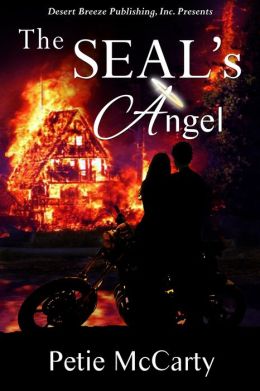 Navy SEAL Sean MacKay's teammate is murdered after stealing a deadly nerve-gas formula from Syrian terrorists. Naval Intelligence believes MacKay's teammate was a traitor and shipped the stolen formula to his sister in the states for safekeeping. MacKay is given orders to find the sister before the terrorists do and to retrieve the stolen formula at all costs.

Foreclosure looms for Cory Rigatero as she fights to keep her rustic resort near Mt. St. Helens afloat after her brother deserted her to join the SEAL teams. Cory's whole world dives into a tailspin when Sean MacKay shows up at her resort with the news of her brother's death and the wild suspicion her brother may have sent her traitorous classified documents for safekeeping. No way will Cory trust MacKay -- the man who once seduced her and then vanished into the night without a trace.
Available at:
http://www.amazon.com/The-SEALs-Angel-Petie-McCarty-ebook/dp/B00W0N6NAG
REVIEW:
RATING: 3.5
'Seal's Angel' is a contemporary romantic suspense, involving a Navy Seal investigating whether his teammate and friend was a traitor who was murdered after stealing a chemical weapon formula from terrorists and shipping that formula home to his sister. Lt. Sean MacKay goes to watch the sister, Corinna Rigatero, hoping to either prove his friend was not a traitor, or to retrieve the formula, before the terrorists come looking for it.
Sean also wants to protect Cory. He'd met her some years earlier, and still feels a romantic (and sexual) connection to her, so at first he tries to basically disguise himself as a handyman at Bel Tesoro, her resort. The last surviving member of her family, Cory is struggling just to keep the rustic resort she inherited up and running. Although she does have a few friends in the nearby community, there are also a lot of greedy and/or lusty foes just waiting for their chance to take her down, in one way or another. She feels her brother deserted her when he went into the Navy, leaving her alone, and she also feels that Sean betrayed her back when she first met him. She is hurt, lonely, and angry, desperate and determined to keep the resort running, but also facing foreclosure.
Eventually, of course, Cory realizes who her new handyman is. She would like him to leave, but he's able to help her when several suspicious incidents threaten the resort, including contamination of the water supply. The tension continues to rise; finally, the terrorists do show up, and Sean has to send for help from his Navy team.
This is definitely an enjoyable book, well worth reading, with a lot of interesting elements and characters, especially Cory and Sean. Unfortunately, there are a few too many interesting elements and characters, and sometimes I got distracted. Who among all these men hanging around are friends, foes, or just part of the scenery? Could she have that dangerous chemical formula, without realizing it? And what about the resort's supposed historic attachment to Lucky Luciano and the mob? There are just a few too many questions like this dancing around; taken individually, they can be fascinating, but all together, they sometimes slow things down, which can be distracting and frustrating.
Because there are so many enjoyable things about 'Seal's Angel', I give the book 3.5 stars, and I am grateful for the reviewer's copy I was given.
Reviewed by: Roberta